On December 3, the signing ceremony of the "Mineralization Integration" new energy material recycling industry project in Weng'an County, Guizhou Province was held at the headquarters of Sunwoda. Sunwoda and Guizhou Chanfert Enterprise Co., Ltd. (hereinafter referred to as " Guizhou Chanfert") signed a strategic cooperation agreement with the People's Government of Weng'an County, Guizhou Province.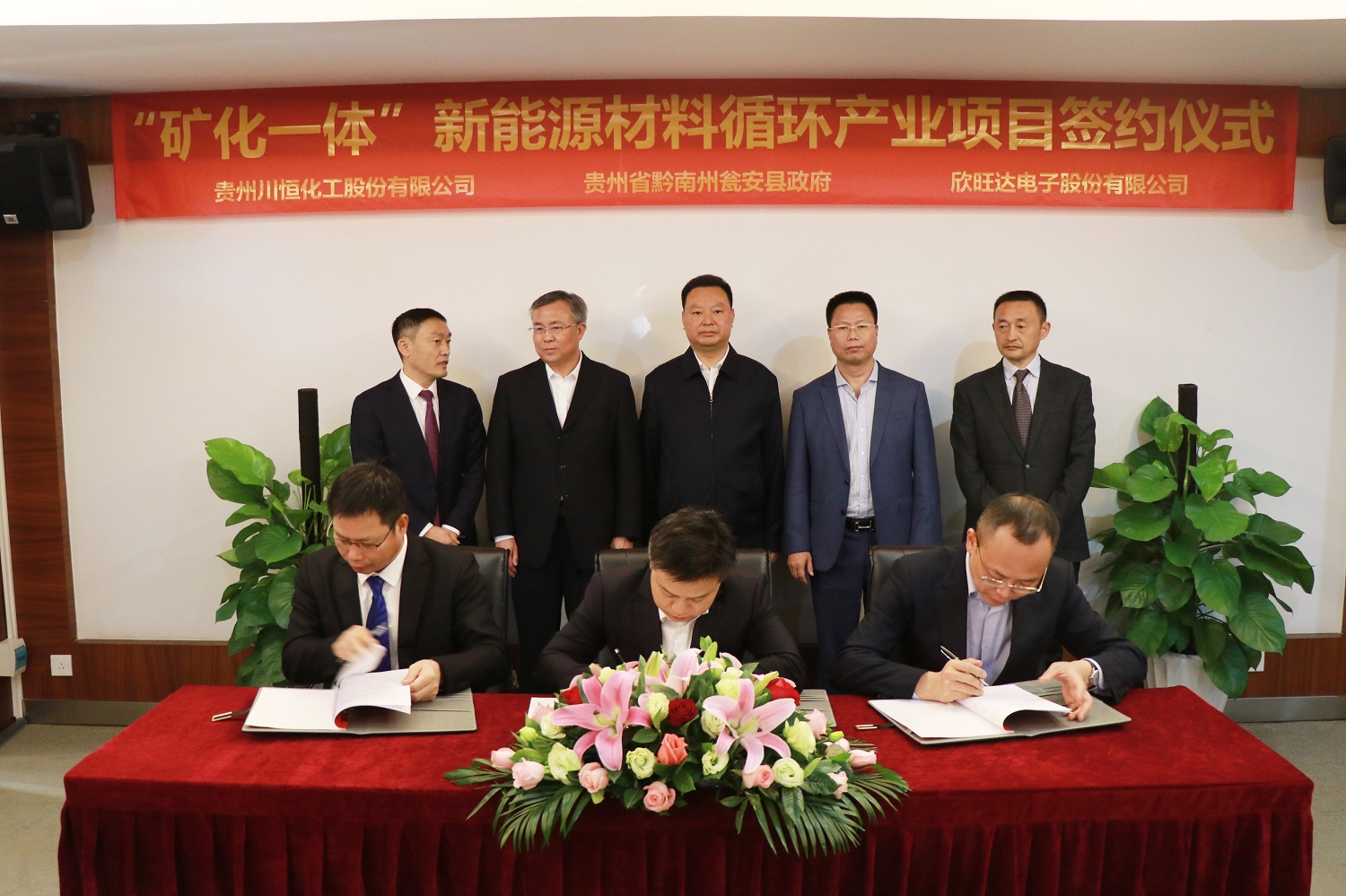 According to the agreement, Sunwoda and Guizhou Chanfert will jointly invest in the construction of the "Mineralization Integration" new energy material recycling industry project in Weng'an County in the Weng'an Economic Development Zone Basic Industrial Park. The total planned investment of the project is 7 billion yuan. At the same time, the two parties will jointly invest in the establishment of a joint venture company to meet the industrial development needs of both parties.
At the signing ceremony, Sunwoda founder Wang Mingwang said that Sunwoda, as a leading enterprise in the new energy industry, has rich industry experience and excellent products, technology, talents and other advantages. This cooperation has positive significance for Sunwoda to expand the upstream industry chain and optimize the industrial layout. We will uphold the principle of "mutual benefit, mutual promotion, and common development", adhere to the original intention of cooperation with Guizhou Chanfert, and work together to make the new energy industry stronger and bigger.
Li Jin, chairman of Guizhou Chanfert, said that Guizhou Chanfert shares the same mission and development vision with Sunwoda. This cooperation is conducive to the integration of various advantages and resources, and gives full play to Sunwoda's technological research and development advantage in the field of lithium batteries and Guizhou Chanfert's industry-leading chemical production technology advantage. In the future, Guizhou Chanfert will join hands with Sunwoda to promote the project construction to achieve practical results as soon as possible.
The leaders of Qiannan Prefecture Government congratulated this strategic cooperation and looked forward to the strong alliance between the two parties to jointly help Guizhou build a 100-billion-level industrial cluster. Qiannan Prefecture and Weng'an County governments will also serve for project construction.
This strategic cooperation not only assists the realization of the national "dual carbon" goal, but also responds to Guizhou Province's strategic deployment of transforming resource advantage into development advantage, and it also demonstrates responsibilities that Sunwoda and Guizhou Chanfert have courageously shoulder the mission,serve the national strategy and jointly promote high-quality development of the new energy industry.