Sunwoda was listed on the "2021 Green Development Index TOP5 of Auto Parts Enterprises" released by CATARC. There are only two power battery enterprise listed in the index of auto parts enterprise. Sunwoda was awarded the AA grade for its outstanding performance in the new energy vehicle industry.

Since 2019, China Automotive Data, entrusted by the Department of Energy Conservation and Comprehensive Utilization of the Ministry of Industry and Information Technology, has published the Green Development Index (GDI) of the automotive industry for three consecutive years, aiming to support the green and high-quality development of the automotive industry. Different from the previous two years, this assessment included auto parts companies into the accounting system for the first time. Only 9 of the 108 parts companies were rated this time. This award fully reflects Sunwoda's exemplary leading role in promoting sustainable transportation development.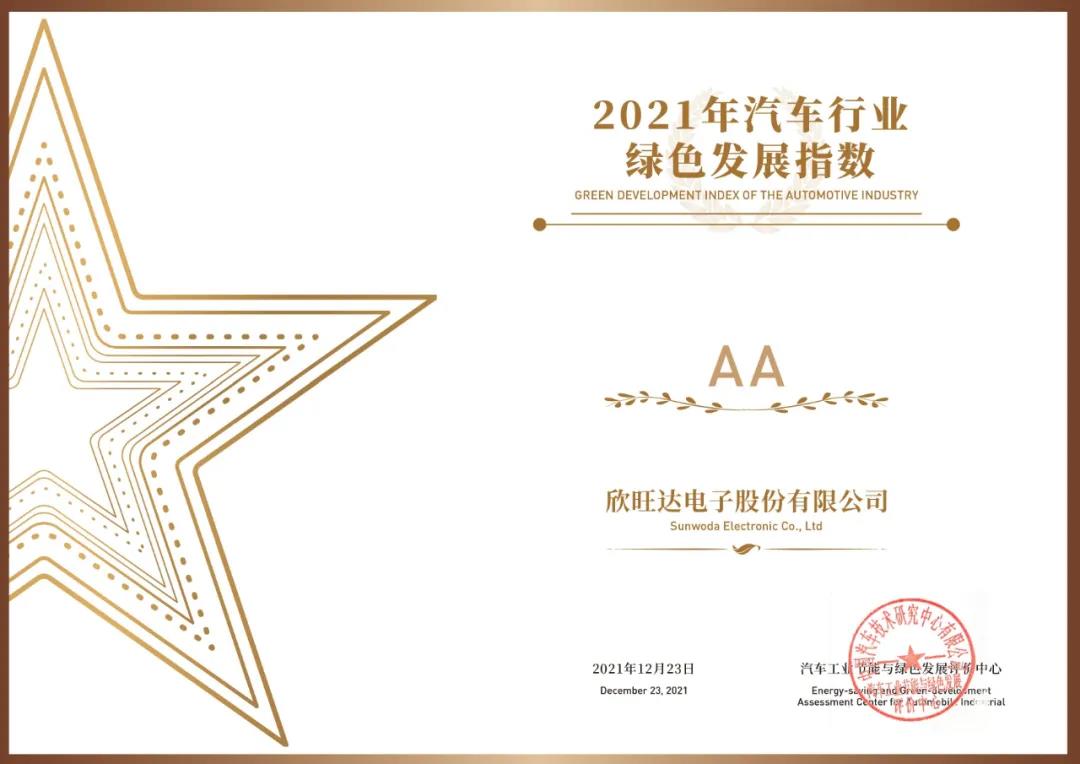 Sunwoda has devoted to innovative and green development since established, with the mission of helping the national "dual carbon" goal, promote corporate carbon management, and practice sustainable development strategies. On the basis of implementing green factory practices, it has formed a basic production idea of "three-in-one" of green operation and production, normalization of energy conservation and emission reduction, and diversification of carbon sink models promotes the green and low-carbon development of enterprises and the reduction of greenhouse gas emissions. At the same time, under the guidance of the "dual carbon" goal, based on low-carbon manufacturing and operation management, Sunwoda has deeply cultivated the basic business, expanded the business scale of the power sector and improved the self-sufficiency rate of the consumer battery business. Sunwoda also strengthen the upstream and downstream cooperation stickiness of each business segment, assist the construction of the ecological chain of resource recycling and utilization in the field of lithium-ion batteries, and achieve a significant improvement in the quality and scale of business segments. Sunwoda will continue to pursue the concept of green development, actively innovate products and technologies, empower the development of green and sustainable transportation, and strive to be the leader of realizing the "double carbon" goal!